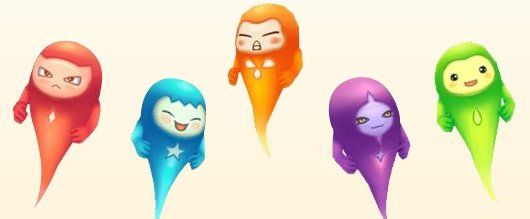 Pets:
Red = Pet of Strength
Blue = Pet of Hope
Orange = Pet of Courage
Purple/Violet = Pet of Intelligence
Green = Pet of Peace
How do I get them?
1. Required level will be 20, and accept the quest from Magician Guild's Farouk located at Alker Harbor.

2. Go to Red Orc Outpost to look for the next quest NPC.

3. Go back to Farouk.

4. You will get a "Floating Diamond". Double click it to obtain your pet.

5. Double click this item to get one pet at random.

or

Just buy in Alker Harbor (Merchant)
How do I raise my pet/s?
1. You will need to feed it to keep its Bond Rating up. Once it reaches zero, the pet will die.

2. Since the pet will fight alongside you, you must buy HP and MP pots which are specially for pets.

3. If a pet dies, you will need to purchase a scroll to revive it at Serie, the NPC at the bottom right of the map, in Nera Castletown.

4. The Pet Merchant NPC will be located at Town of Nera Castle
Indepth guide to Pet Interface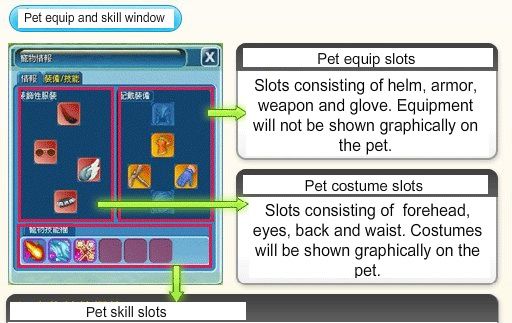 Pet's Evolution system
1. Your pet can level alongside you as it fights.

2. The mobs must be +/- 15 of the owner's level for the pet to gain "experience" points. You will need to kill 100 mobs to level the pet at first, not by the usual experience points. In other words, your pet will not leech your main character's EXP. Pets gain 1 exp per 1 mob.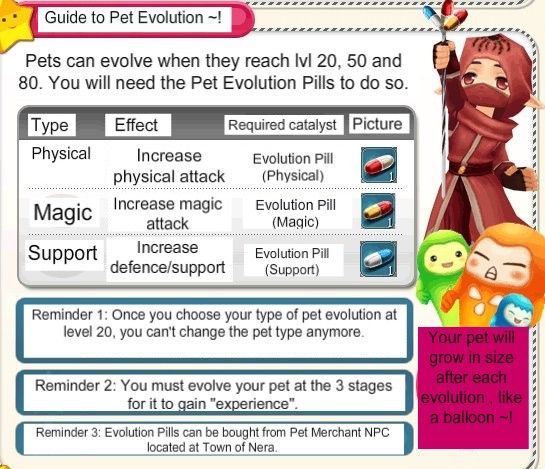 Skill system for Pets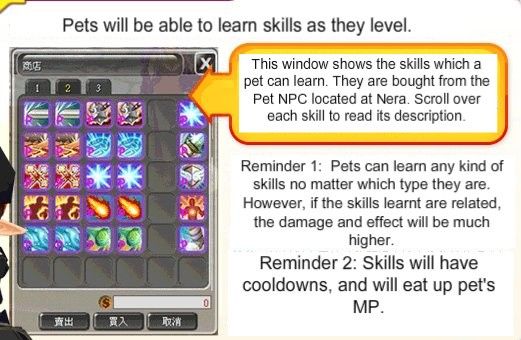 Where can I buy Pet Stuffs?
Pet Costumes: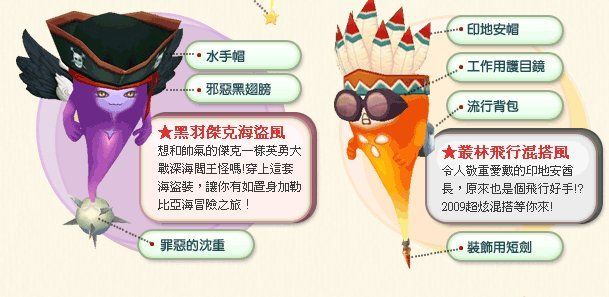 credits to: cinderboy